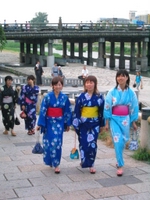 Our off the beaten track tours and strategies, often digitally guided but not always, can put you in some pretty amazing places. Most Japan travelers stick to the standards: Tokyo, Kamakura, Nikko, Takeyama, Kyoto, Nara and Hiroshima. But even in these popular destinations it is always possible to find high value gems that can be combined with the often crowded main attractions. In the Japanese countryside, like the Izu Peninsula just west of Tokyo or the Tango Peninsula northwest of Kyoto, the Japanese travel experience can be exceptionally rich, serene and generally no tourists in sight!
In peak April and November seasons, especially in Kyoto, getting away from the crowds is essential. Kyoto receives 50 million Japanese visitors a year: 10 million in April during sakura hanami cherry season, and 10 million more in November during the momiji maple leave season. This means that high-season in Kyoto is really challenging: long lines, traffic jams and even gridlock. Many high-value venues, such as the Golden Pavilion or Kiyomizu Temple or the Bamboo Forest Path, are over-crowded year round. I have designed five amazing off the beaten track tour itineraries in and around Kyoto. These destinations are special and you won't find them in most guide books. And they are just around the corner and easy to get to with our PDF-format English-Japanese digital self-guided tours.
We love guiding people out of the cities to the wonders of countryside Japan where natural attractions abound in traditional settings amid lush mountains or along spectacular coastlines. In recent years, we have "guided" clients to the Tango Peninsula, the Izu Peninsula, along the Kumano Kodo pilgrimage route, and to the exotic edges of Okinawa and Hokkaido. In 2005 we guided a father and son from one end of Japan to the other including scuba diving stops, hikes in isolated national parks and interludes at unheard of hot spring towns. They had a fantastic time and did it all with just a little help from us. Let us do the same for your next Japan trip.